Search

---
Interactive audio exhibition of photographs in the open Grand Courtyard of the Seimas narrates the history of the Constituent Seimas
Press release, 7 September 2020
'All hail the Governor of the State', the press saluted the Constituent Seimas, which convened to its first solemn sitting on 15 May 1920. This salutation serves as the title of the exhibition dedicated to the centenary of the Constituent Seimas, which can be viewed in Vilnius and Kaunas. The exhibition, arranged by the Historical Presidential Palace of the Republic of Lithuania and the Mikalojus Konstantinas Čiurlionis National Museum of Art, features major achievements by the Constituent Seimas, the forerunner of the modern Lithuanian Parliament, in restoring the State of Lithuania.
In Kaunas, the exhibition is displayed in the garden of the Historical Presidential Palace. An equivalent exhibition in Vilnius is hosted in the Grand Courtyard of the Seimas, which is now open to the public. Visitors can view the exhibition at the Seimas with the help of a virtual guide once they scan a QR code. The content of the interactive audio exhibition is available in the English and Lithuanian languages. All that is needed is a mobile phone or a tablet with a camera and a code-reading application.
'We are happy to open one more space to the public this year to allow visitors to enjoy their leisure time in a meaningful way in a cosy atmosphere and to rediscover the history of Lithuania. The impressive old photographs and accompanying narratives remind us of the significance of the decisions taken by the Parliament, as the representation of the nation, for the lives of each and everyone of us. This reminder is of particular relevance now as shortly we will all go to the ballot box to elect those who will decide on the major issues of our lives,' says Rūta Petaraitienė, Director of the Information and Communication Department of the Office of the Seimas.
The Grand Courtyard of the Seimas is open to the public from 5.00 p.m. to 9.00 p.m. on weekdays and from 11.00 a.m. to 9.00 p.m. on weekends and holidays. Entrance is free.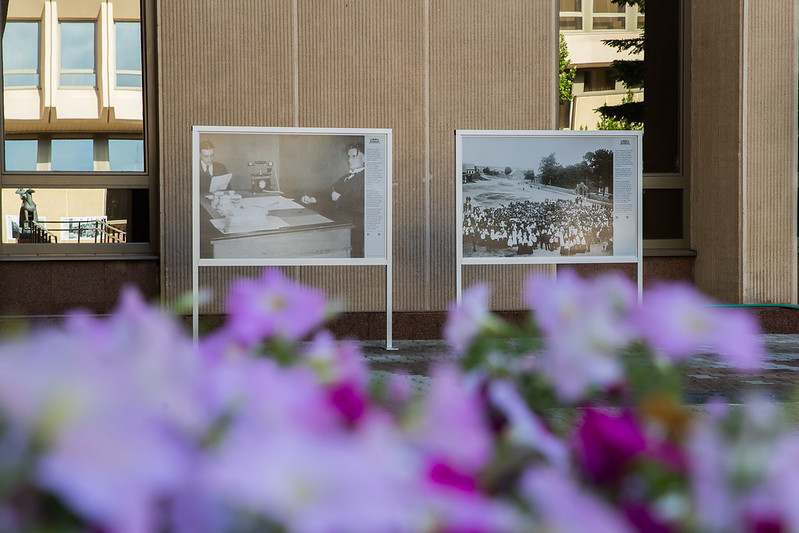 Photos by Olga Posaškova, Office of the Seimas
In the Grand Courtyard, visitors can also see the biggest bronze bas-relief images in Lithuania, namely works by sculptor Steponas Šarapovas entitled 'Dispute' and 'The Way', the latter completed by sculptor Dovydas Zundelovičius after the author's death. Visitors can also examine the sculpture 'Gražina' by Daliutė Ona Matulaitė and architectural details of the building of the Seimas from a closer distance.
Monika Kutkaitytė, Adviser, Press Office, Information and Communication Department,
tel. +370 5 239 6666, e-mail: [email protected]
Last updated on 09/07/2020 15:17
Monika Kutkaitytė