Search

---
Speaker of the Seimas called on NATO Parliaments to be more active in striving for a safer and more peaceful area in the Euro-Atlantic community
Press release, 2 June 2023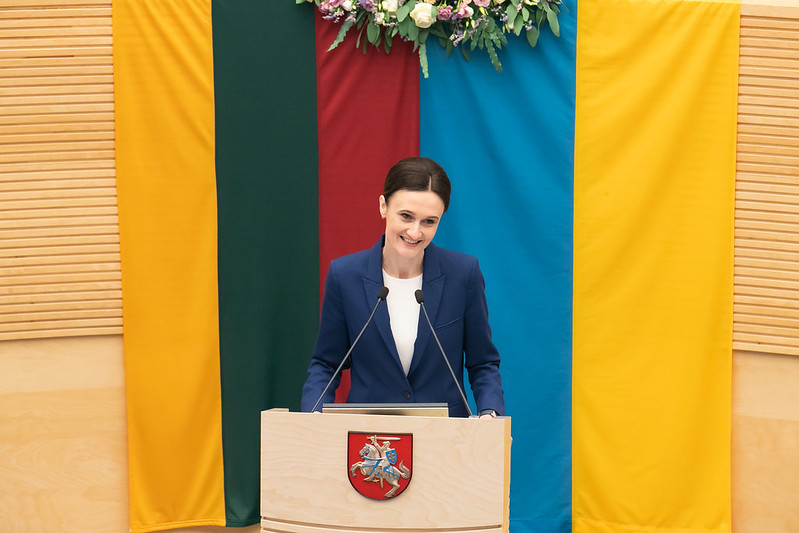 Photo by Džoja Gunda Barysaitė, Office of the Seimas
While welcoming in her address the speakers of parliaments of NATO member countries, Sweden and Ukraine, who had gathered in Vilnius, Viktorija Čmilytė-Nielsen, Speaker of the Seimas, underlined the important role of parliaments in the process towards peace and security.
'Today's gathering should be seen as a meeting that adds value to our joint efforts as allies for the common goal of a safer, better and more peaceful area in and around the Euro-Atlantic Community,' Ms Čmilytė-Nielsen stressed.
And the common goal can be attained more quickly, according to the Speaker of the Seimas, by significantly strengthening the forward defence and deterrence of the Baltic region and the entire eastern flank of NATO in line with the principle of 'deterrence by denial'; by increasing the financial commitments to defence; by promoting closer cooperation with the Indo-Pacific partner countries; and by encouraging the enlargement of the Alliance itself, with particular reference to Finland's membership of NATO and the ratification process of Sweden's membership.
'Advocating strategic solutions to ensure long-term peace in Ukraine and in Europe, the Seimas expressed the political will to invite Ukraine to join NATO. I strongly believe that this could be one of the most important decisions of the Vilnius Summit,' said Ms Čmilytė-Nielsen, who explained to the participants of the event that the Seimas had expressed such a position on the main objectives of the NATO Summit in Vilnius already in April with the adoption of its resolution.
The Speaker of the Seimas is convinced that when nations are burdened with immediate security threats, their resources and attention are often consumed, making it difficult to prioritise and address other challenges effectively.
'Following the devastation of World War II, Europe recognised the need to address security concerns in order to ensure lasting peace and stability. The establishment of the EU and NATO provided collective economic and defence mechanisms, enhancing the security of its member states. With improved security, European countries were able to shift their focus from internal conflicts and rivalries as well as from external threats towards fostering collaboration and integration. This demonstrates how addressing security challenges can pave the way for progress in other areas,' said Ms Čmilytė-Nielsen, explaining once again the importance of both today's meeting and the upcoming NATO Summit in Vilnius.
On Friday, the three Meeting sessions will focus on global challenges and NATO, increasing defence spending, strengthening of deterrence and defence, and a long-term support plan for Ukraine.
On Saturday, the participants of the Meeting will observe integrated firing exercises of the NATO enhanced Forward Presence Battlegroup at the General Silvestras Žukauskas Training Area in Pabradė.
Ilona Petrovė, Spokesperson for Viktorija Čmilytė-Nielsen, Speaker of the Seimas, tel. +370 5 239 6030, mob. +370 698 42071, e-mail: [email protected]
Last updated on 06/03/2023 08:24
Monika Kutkaitytė