Speaker of the Seimas received the Polish state decoration
Press release, 2 July 2019
Photo by Olga Posaškova, Office of the Seimas
On 1 July 2019, Viktoras Pranckietis, Speaker of the Seimas, was awarded the Grand Cross of the Order of Merit of the Republic of Poland at the Sejm of the Republic of Poland in Warsaw.
'I accept this award as a token of friendship and appreciation for the efforts streamlined to consolidate the relations between our nations. Today, we can pride ourselves on the success of the mutual efforts that have led to the creation of a steadfast link between our countries: a link based good neighborly relations, friendship and respect,' Mr Pranckietis said.
The Speaker of the Seimas thanked his colleagues, the leaders of the Polish Parliament, for the important steps that have led to a new phase in the development of bilateral relations between Poland and Lithuania.
'I sincerely thank Marek Kuchciński, Marshal of the Polish Sejm, and Stanisław Karczewski, Marshal of the Polish Senate. Over the past two and a half years, we have communicated so much we can safely call each other friends. Together, we celebrate the anniversaries important for both our countries, we respect each other, and we can communicate in one language,' the Speaker of the Seimas said.
A parliamentary delegation, led by the Speaker of the Seimas, participated in a series of events held in Poland on 30 June and 1 July 2019 to mark the 450th anniversary of the Union of Lublin.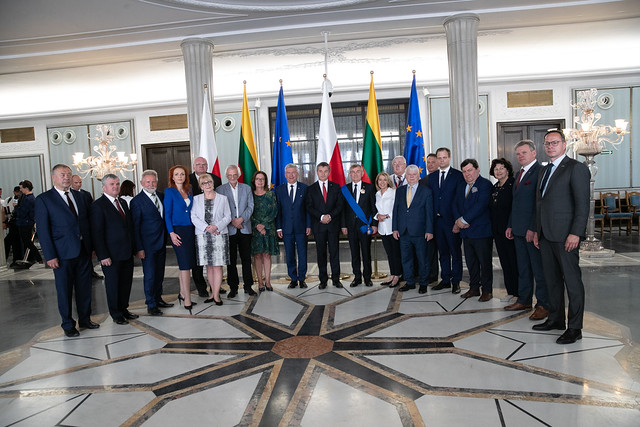 Photos by Olga Posaškova, Office of the Seimas
Paulius Žeimys, Assistant to the Speaker of the Seimas, tel. +370 5 239 6030,
e-mail: [email protected]
Last updated on 07/02/2019 15:26
Monika Kutkaitytė