In Kyiv, the Speaker of the Seimas: 'We will stand by Ukraine until its victory'
Press release, 11 November 2022
Viktorija Čmilytė-Nielsen, Speaker of the Seimas, heading a parliamentary delegation to a Session of the Assembly of the Seimas of the Republic of Lithuania and the Verkhovna Rada of Ukraine held in Kyiv, met with President of Ukraine, Volodymyr Zelenskyy. The Speaker was presented with the Order of Prince Yaroslav the Wise of the II degree, which was bestowed upon her in October 2022 for significant personal merits in strengthening cross-border cooperation, supporting the sovereignty and territorial integrity of Ukraine and promoting Ukraine in the globe.
'What is happening now is more than a fight for Ukraine's freedom and future. It is a fight for the future of democracy and the future of Europe. That is why we are grateful to you for fighting on the front lines and we pledge to stand by you in this fight until victory. This award is an incentive to work harder and more intensively so that we can achieve victory together. Lithuania will help Ukraine as long as it takes,' Viktorija Čmilytė-Nielsen said when accepting the award.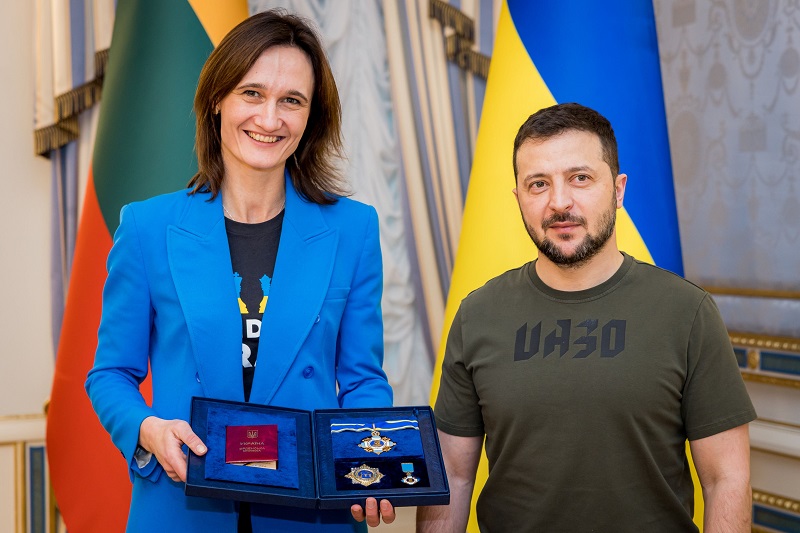 Photo by Olga Posaškova, Office of the Seimas
On 22 October, the President of Ukraine signed a decree also bestowing the Order of Prince Yaroslav the Wise of the II degree upon Nancy Pelosi, Speaker of the United States House of Representatives, and the Speakers of the parliaments of the Baltic States, Poland and other countries.
Ilona Petrovė, Spokesperson for Viktorija Čmilytė-Nielsen, Speaker of the Seimas, tel. +370 5 239 6030, mob. +370 698 42071, e-mail: [email protected], www.lrs.lt
Last updated on 11/14/2022 13:54
Monika Kutkaitytė