Search

---
Address by the Speaker Andreas Norlén at the NATO Parliamentary Assembly's Spring Session in Vilnius
Vilnius, 30 May 2022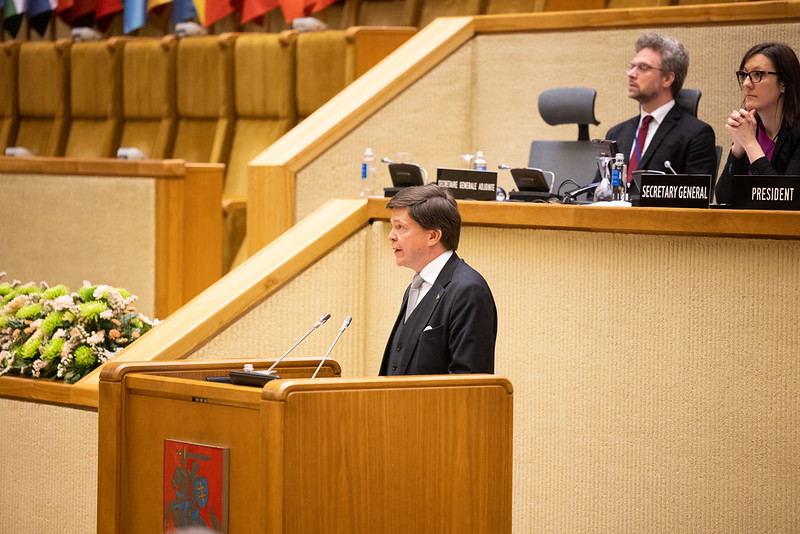 Photo by V. Chorna, Office of the Seimas
Mr President,
Members of the NATO Parliamentary Assembly,
Excellences,
Ladies and Gentlemen,
I am honoured to have this opportunity to address the NATO Parliamentary Assembly on behalf of the Swedish Parliament at a very special time in the life of my country, of the Alliance and of the whole world. I am especially honoured to give this speech in the presence of members of the Ukrainian Parliament, representatives of the gallant Ukrainian people. We all stand by your side.
Ladies and Gentlemen,
We are meeting today in times of great trouble, times of large-scale war in Europe, times that will affect and continue to affect our part of the world for generations to come.
When we awoke on the 24th of February to the news of the Russian full-scale invasion of Ukraine, we were filled with horror at the human suffering, and with rage at the unjustifiable war. We also quickly realised that the European security order was being undermined by Russia, which is breaching both the laws of war and international humanitarian law. It was obvious from the start that Russia's war against Ukraine would fundamentally change the security situation in Europe and the world.
I am proud that the democracies of Europe, our transatlantic partners and many other countries have acted swiftly and forcefully to impose sanctions on Russia for its vicious war, and to support the Ukrainian people's brave efforts to defend their homeland.
The Swedish Government and Parliament have also taken action. Decisions concerning support to Ukraine, including military support, have been considered and adopted and Sweden has been a strong advocate for ever stronger sanctions against Russia.
Less than three months after the outbreak of war, on the 16th of May, the Swedish Government made the historic decision to apply for membership of NATO. The application has very solid support in the Swedish Parliament. Nearly 90 per cent of the members are in favour. One of many signs that this is a time of great change. As noted in a recent debate in the Swedish Parliament, a vast majority assessed a membership application to be a necessary measure in the light of Russia's brutal invasion of Ukraine and thereby its attack on the European security order.
This decision was taken in close dialogue with Finland. On the 18th of May, the Government submitted its letter of intent to apply for NATO membership at the same time as Finland. I think it is symbolically important that also my fellow Speaker from Finland, Matti Vanhanen, has spoken here today. Our countries are not just neighbours, we also share a history.
Over the centuries, Sweden's and Finland's paths have mostly followed the same course, although at times they have veered in slightly different directions. Still, we have always stood close enough to ensure that our unique relations have developed and strengthened over the years. Our countries make independent security policy decisions, of course, but our history, our security and our futures are closely interwoven.
And I think it is important to understand the special historical and geopolitical situation around the Baltic Sea to realise why Sweden did not join NATO immediately after WWII.
I would also like to emphasize that research conducted after the end of the Cold War, when archives were opened, shows that Sweden had far-reaching contacts and planning with Western countries, including the United States, during the Cold War. There was no doubt where Sweden belonged in the event of a war between the democracies of the West and the communist countries of the East.
Since the end of the Cold War, Sweden has gradually deepened its contacts and collaboration with NATO and individual NATO countries regarding defence and security. Sweden, like Finland, quickly joined the Partnership for Peace when it was formed, and has taken part in several NATO-led military missions, for instance in Afghanistan, Kosovo and Libya. Sweden also took part in the training mission in Ukraine, which was aborted because of the war. Sweden has signed a host nation agreement with NATO to facilitate cooperation in the event of war or other crises. In recent years, there have also been military exercises on Swedish soil with participation from NATO countries.
The Swedish Parliament became an associated member of this Assembly as early as 2003, almost 20 years ago. The Swedish delegation has since then endeavoured to be an active and reliable partner. The delegation appreciates having the opportunity to follow discussions concerning our common security, both within the Alliance and in individual countries. We also highly value the committee visits to Sweden that have provided us with the opportunity to learn more about the analyses and perspectives of the Alliance and various member states, and to highlight how we see security in our region and the challenges we face.
Our country's security policy has thus for many years been based on close cooperation with European and transatlantic countries and communities. This also means that Sweden already contributes in several ways to our common security.
Membership of NATO involves, of course, a commitment to comply with the Washington Treaty in its entirety. This means that NATO's collective defence guarantees would cover Sweden, and that Sweden would be committed to show solidarity and provide support for other members if they were attacked.
I would like to underscore that Sweden stands ready to join NATO as a country that contributes to the common security of the allied countries.
Sweden stands ready to defend freedom and democracy together with all of you. Because democracy and freedom is worth defending. Democracy is, of course, morally superior to all alternatives but it is also superior when it comes to delivering prosperity and happiness to people.
Sweden contributed already, as I mentioned, and we will contribute even more. Sweden, like Finland, brings considerable capacity, which will benefit the Alliance as a whole.
Sweden has important resources and capabilities that can strengthen NATO's joint defence planning, including significant combat aircraft and underwater capabilities. Our Swedish system will, together with American and other systems, create a very strong air defence system throughout modern Europe. The total defence plays a central part in the building of the Swedish defence and serves to strengthen our defence capability and the resilience of civil society in the event of a crisis or war. To enhance expertise, a new Psychological Defence Agency has been established.
The decision has also been taken, with broad political agreement, to accelerate the expansion of Sweden's defence spending, until it within a few years reaches two per cent of GDP. Sweden is currently pursuing the greatest build-up of its military and civilian defence since the 1950s. Between 2014 and 2025, defence spending would have increased by 85 per cent, according to decisions taken already before Russia's war against Ukraine, but the rate of expansion will now increase significantly.
From a geopolitical point of view, it is important to note that if Sweden were to join NATO together with Finland, all the EU and Nordic countries around the Baltic Sea would be united by the same mutual and credible defence guarantee. With Sweden and Finland as an integral part of NATO's defence planning, it would be much easier to defend the entire Baltic region in the case of an armed conflict, and that would not only benefit Sweden and Finland, but also the entire Alliance and all Allies.
The application is the starting signal for an accession process which, as you know, includes ratifications in the parliaments of all NATO countries. We are very grateful for the strong support that has been expressed by many Allies, during this session, also in connection with several incoming and outgoing parliamentary visits. I hope that it will be possible to have a fast ratification process. There are some outstanding issues that can hopefully be solved through dialogue. We note the concerns that have been raised, and will work very hard to resolve the situation.
After this, the Government plans to present a bill to the Swedish Parliament with a proposal on ratification of Sweden's membership of NATO. And as I have already mentioned that bill will have a very solid support.
Ladies and Gentlemen,
One thing has been poignantly brought to mind this spring, as it has all too many times before: the enormous cost of war. Human suffering, material destruction, social chaos.
'Our time is a time for heroes' is a line in a song about the Second World War, but the words equally well describe the present day, as we can see day after day in Ukraine. And that is why we dare to believe in the lyrics when they continue:
'One day when the light returns
You'll be waiting somewhere for me
All the evils we dreamt will be forgotten and gone
Our whole world changed will be'.
Thank you.
Last updated on 05/31/2022 08:12
Monika Kutkaitytė