Speaker of the Seimas visits Ukraine: 'Sanctions against Russia must remain until full implementation of the Minsk agreements'
Press release, 19 November 2019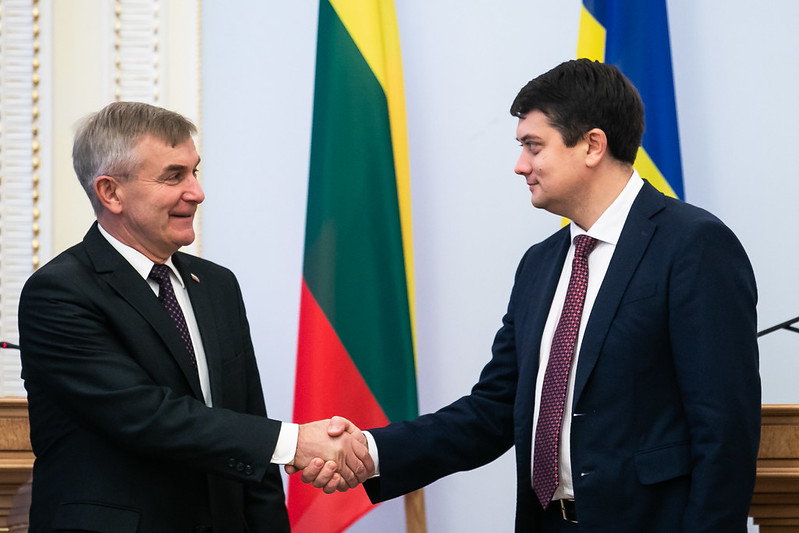 Photo by Olga Posaškova, Office of the Seimas
While on his visit to Kyiv, Ukraine, on 18 November 2019, Viktoras Pranckietis, Speaker of the Seimas, had a meeting with Dmytro Razumkov, Chairman of the Verkhovna Rada of Ukraine.
The Speaker of the Seimas noted that Lithuania was aware of and welcomed the concrete steps taken by Ukraine towards securing peace in Donbass. Exchange of prisoners, withdrawal of forces along the contact line, and intensified activities within the Normandy format open the door for peace negotiations. Mr Pranckietis expressed his hope that concrete significant steps would also be taken by Russia and Russian-backed separatists in Donbass.
The Speaker of the Seimas is convinced that following the agreement with separatists in eastern Ukraine, local elections in Donbass are possible only once security is ensured and free access to international monitors and the media is granted. Elections should be held in line with the Ukrainian laws and comply with the standards of the Organisation for Security and Cooperation in Europe.
'EU economic sanctions against Russia must remain until complete implementation of the Minsk agreements, which include a full ceasefire, the withdrawal of foreign troops, and restoration of full control over the state border by the Ukrainian government. We are staunch supporters of Ukraine's sovereignty and territorial integrity. We will not recognise the annexation of Crimea and will continue raising the issue of Ukraine in international formats,' said the Speaker of the Seimas.
On his visit to Kyiv, Mr Pranckietis once again invited the top Ukrainian leaders to the fourth Ukraine Reform Conference to be held in Vilnius next year, which would provide everyone with an opportunity to assess the progress of reforms in Ukraine and ensure further international support.
Photo by Olga Posaškova, Office of the Seimas
Karolina Frolovienė, tel. +370 5 239 6016, mob. +370 698 42 071, e-mail: [email protected]
Last updated on 11/19/2019 15:21
Monika Kutkaitytė