Speaker of the Seimas in Oslo: 'Norway is a security partner for our region'
Press release, 30 May 2023
Photo by Olga Posaškova, Office of the Seimas
At the meeting with Masud Gharahkhani, President of the Storting (Parliament) of the Kingdom of Norway, Viktorija Čmilytė-Nielsen, Speaker of the Seimas, said that close ties, regional unity and coordinated action between the Nordic and Baltic countries were particularly important against the backdrop of the current challenges. The like-minded Nordic and Baltic countries benefit from all forms of open and modern cooperation from bilateral assistance and the Nordic-Baltic Eight (NB8) to NATO.
'Norway is our NATO ally and an indispensable security partner for the region. Our geography and Russia's changing military posture necessitate visible measures of collective deterrence and defence. One of them is the permanent deployment of allied troops on rotation basis. Currently, Lithuania also hosts Norwegian soldiers. Incidentally, the President of the Storting had mentioned that this was the largest ever military mission of Norway abroad,' said Ms Čmilytė-Nielsen.
In Oslo, the Speaker of the Seimas talked about the ambitious resolution adopted by the Seimas, which set the main goals of Lithuania at the NATO Summit in Vilnius and acknowledged the necessity of inviting Ukraine to join NATO.
'The NATO Summit in July is an excellent opportunity for taking real decisions and deciding on NATO's new defence plan, NATO's short-term and long-term practical and military support for Ukraine, and political commitments that would move the partnership between NATO and the Indo-Pacific states to the next level,' said Ms Čmilytė-Nielsen.
The Speaker of the Seimas added that these and other issues would also be discussed at the Meeting of Speakers of Parliaments of NATO Member Countries in Vilnius on 1–3 June 2023. The Meeting will be attended by Morten Wold and Kari Henriksen, Vice Presidents of the Norwegian Storting.
The Meeting of Speakers of the Parliaments of NATO Member Countries will be streamed live on:
The Seimas website (in Lithuanian);
The Seimas Facebook account (in Lithuanian);
The Seimas YouTube channel at:
- https://youtu.be/vENUVufpPWw in Lithuanian;
- https://youtu.be/_OYmP3-enOY in English;
- https://youtu.be/XkPk1JnJ3e8 in French.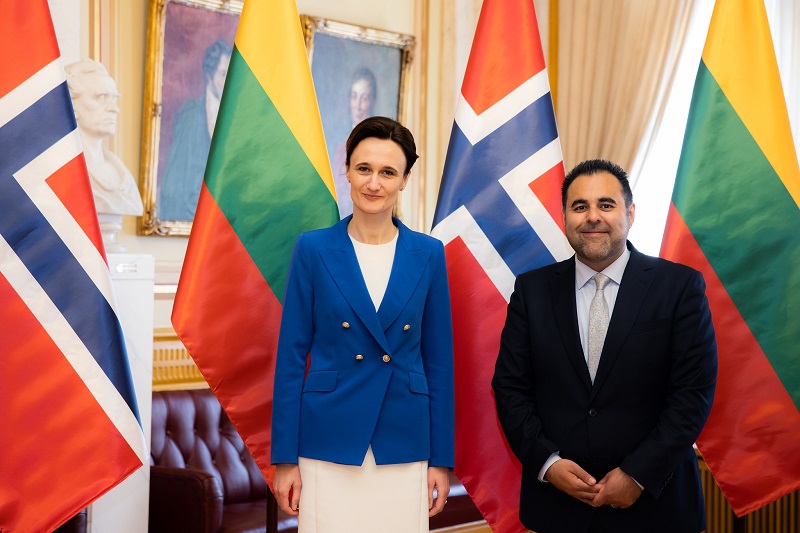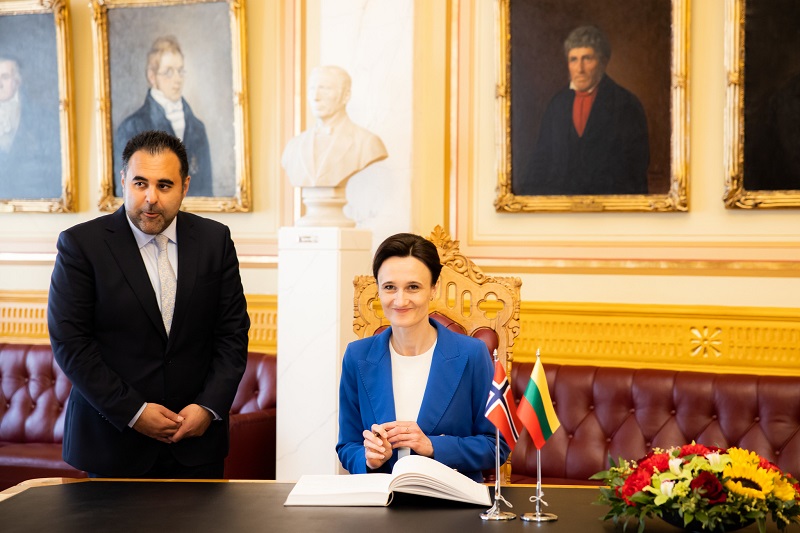 Photo by Olga Posaškova, Office of the Seimas
Ilona Petrovė, Spokesperson for Viktorija Čmilytė-Nielsen, Speaker of the Seimas, tel. +370 5 239 6030, mob. +370 698 42071, e-mail: [email protected]
Last updated on 06/01/2023 10:37
Monika Kutkaitytė