Viktorija Čmilytė-Nielsen, Speaker of the Seimas: 'March 11th is the best proof of the continuity of the idea of our statehood'
Press release, 11 March 2021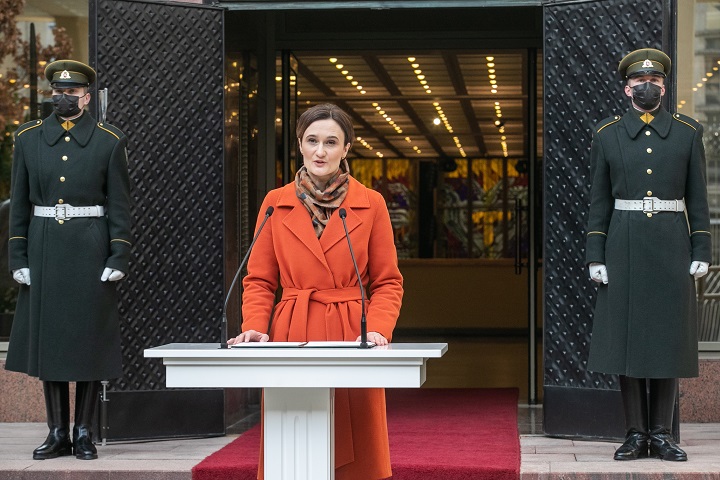 Photo by Džoja Gunda Barysaitė, Office of the Seimas
Speech by Viktorija Čmilytė-Nielsen, Speaker of the Seimas, on the occasion of the Day of Restoration of Lithuania's Independence:
March 11th is the best proof of the continuity of the idea of our statehood. It is a viable symbol of the nation's aspiration to have and cherish its state.
Since we have a few dates relating to the statehood, it is natural that sometimes a question may arise, which day is more important.
When commemorating the second anniversary of the restored state of Lithuania back in 1992, Vytautas Landsbergis, President of the then Supreme Council, mentioned in his speech the debates among the diaspora, which day – February 16th or March 11th – would be more appropriate for the ceremonial celebration. Vytautas Landsbergis pointed out with a deep insight that, at times, our history was being assessed by its age: the earlier events occurred, the more significant they seemed to be.
Even though now it may sound strange, the inclusion of March 11th in the list of the memorable days and celebrations triggered a discussion at that time. It seemed that the restoration of independence, the political act that had just taken place, lived in the memory of everyone involved and thus had not yet earned a historical significance.
Much has really changed since then. March 11th, just like February 16th, became a national holiday.
A new generation has come into politics now, and it raises no question which of the dates deserves a higher commemoration.
It is a generation for which the symbols of statehood are notions of meaningful and viable identification, rather than just an obligation or routine. Just look at how many tricolor and Vytis flags we can now see during the festivals, how immensely their number has grown in public spaces! This not only attests to how important the statehood is but also demonstrates the people's need to create and care for their own state.
I believe this is why it is vital to involve young people as early as possible in social and political processes and steadfast state-building work.
We have learned not only to commemorate, but also to celebrate our statehood. Therefore, looking from today's perspective, the reflections as to which date – February 16th or March11th – is more important, have lost their meaning now.
February 16th was the day when the foundations of our statehood were laid, without which we would not have approached March 11th. In its turn, March 11th enabled us to use the ground that evolved with the Declaration of Independence back in 1918.
All of this constitutes an integral process of restoration and consolidation of our state, of which we are now part. There is no doubt that one day our efforts will also be assessed from the perspective of future generations. It is an inspiring and motivating thought.
Happy Day of the Restoration of Independence!
Last updated on 03/11/2021 10:34
Rimas Rudaitis