The Speaker of the Seimas met with Prime Minister Mohammad Shtayyeh in Palestine
Press release, 9 February 2022
Meeting of the Speaker of the Seimas with the Prime Minister of Palestine. Photo by Olga Posaškova, Office of the Seimas
On 9 February, during her visit in Ramala, Viktorija Čmilytė-Nielsen, Speaker of the Seimas, and her delegation met with the Palestinian Prime Minister Mohammad Shtayyeh. The meeting focused on the development of bilateral relations and economic cooperation.
'We have discussed bilateral contacts, particularly in the fields of education, culture, economy, and the recently increased interest in developing business and trade relations. The cooperation will be encouraged further by Lithuanian business visits planned as soon as this year,' said Viktorija Čmilytė-Nielsen at the press conference.
The Speaker of the Seimas also expressed Lithuania's support for the perspective of the two-state solution reached in the direct negotiations between Palestine and Israel, as well as support for the United Nations Relief and Works Agency for Palestine Refugees in the Near East (UNRWA).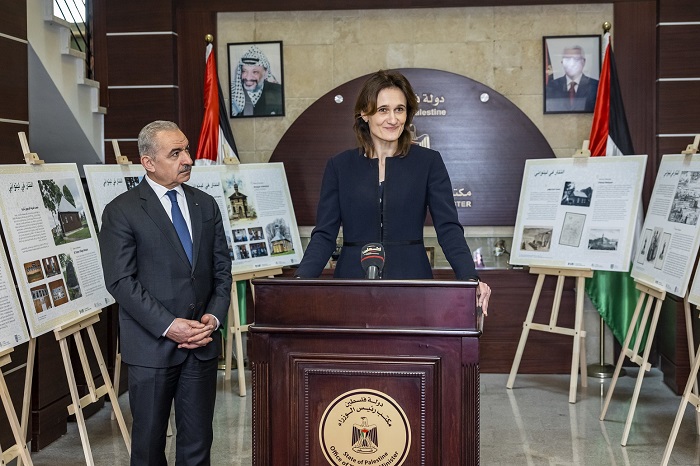 At the exhibition dedicated to the culture and history of Lithuanian Tatars. Photo by Olga Posaškova, Office of the Seimas
In the Office of the Palestinian Prime Minister, Ms Čmilytė-Nielsen and Mr Shtayyeh together visited the exhibition dedicated to the culture and history of Lithuanian Tatars.
'This demonstrates that Lithuania is one of Europe's countries with deep, centuries-old Islamic traditions. In different Palestinian cities, the Lithuanian Representation will continue to organise events dedicated to the unique heritage of Lithuanian Tatars. Cultural exchanges can help our people to get to know each other better and create new opportunities for cooperation,' said Viktorija Čmilytė-Nielsen.
The Prime Minister of Palestine thanked Lithuania for its humanitarian support in 2020 to help Palestine fight the COVID-19 pandemic, the Lithuanian-supported ongoing development cooperation projects in the field of women's economic empowerment, and the successful completion of the European Union Twinning project aimed at improving customs fee collection and border crossing controls.
On Wednesday morning, the Speaker of the Seimas, in an exclusive interview for readers of Al-Quds, the largest Palestinian and one of the largest daily newspapers of the Middle East, highlighted the challenges posed by the aggressive Russian policy and the hybrid attack by the Belarusian regime on Lithuania and NATO's eastern flank and the need for response.
Viktorija Čmilytė-Nielsen has also met with Amal Hamad, Palestinian Minister of Women's Affairs; Amal Jadou, Deputy Minister of Foreign Affairs, and representatives of the Palestinian academic and non-governmental sector. The participants of the meeting discussed future joint projects and opportunities for drawing on Lithuania's experience in the fields of women's economic empowerment and fight against violence.
Ilona Petrovė, Spokesperson to Viktorija Čmilytė-Nielsen, Speaker of the Seimas,
tel. +370 239 6030, mob. +370 698 42071, e-mail: [email protected]
www.lrs.lt
Last updated on 02/10/2022 14:42
Monika Kutkaitytė